Lloyd Princeton, DMC's principal consultant, is a noted speaker to the design industry.   A full range of topics address the latest developments in the industry and the market for professional services, tailored to engage your audience. Speaking presentations are excellent opportunities for manufacturers, service companies and designers to promote their relationship to the designers.
See the calendar of speaking engagements here.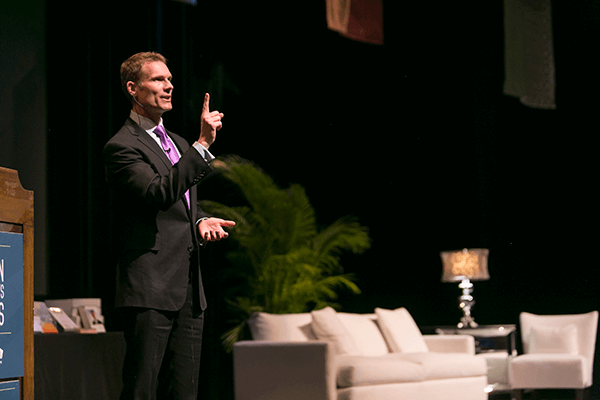 Seminars
A New Conversation: Evolving your Business with the DIY Consumer (CEU-102845)
Participate in this interactive program to learn the best strategies for engaging the growing number of consumers and potential clients, whose purchasing behaviors have been altered by the "do-it-yourself" movement. Learn how to position your brand, package your services, and optimize your pricing so that you can maintain design integrity, professional (and personal!) satisfaction, and give clients what they want—more control over their projects. You will be back in the driver's seat after participating in this timely conversation! Ask about this seminar.
Deciding What You Are Worth and Charging It
While design professionals know how to design, they do not always understand what or how to charge for their services. Add into this the issues of dealing with long-term clients versus new prospects, and the situation is perfect to lose money. From the time of first contact with a prospect through the final closing of a deal, designers will learn how to determine the best way to charge for their creativity and incorporate it into a solid letter of agreement, with confidence! Ask about this seminar.
Master's Class (CEU-101509)
This comprehensive program will provide attendees with all of the necessary tools to grow a business including marketing (attracting desired clients), pricing (how to charge them once found) and selling (the psychology of the buyer's mind).This exciting class is offered in half-day seminars and specifically utilizes the salient points of Lloyd's best presentations.
Click here for Master's Class registration
DMC Workshops
You are invited to take part in a series of small, intimate workshops with management consultant Lloyd Princeton. During these two-hour sessions, limited only to ten participants, Lloyd will address management issues faced by interior design firms, and answer questions related to the business of design. Each participant will be allowed to submit three questions in advance, to be answered during the session, opening up a dialog and providing input from all the participants, and many leaders within the industry. Participants are also encouraged to bring their marketing materials for review.
Click here for Workshop registration
Building a Brand: 411 on Marketing 
It's not always easy to differentiate one design business from another, unless steps are taken for active marketing. Another problem lies with the belief that getting published will make a career. Marketing is comprised of many elements including Public Relations, Direct Marketing, and the Internet. Rather than wait for referrals, designers will learn how to create new business!  Ask about this seminar.
Selling Clients What they Need, Not What They Ask For
Consumers frequently ask for products and services that they think they need, based on a lack of information. When presented with what they have requested, they don't make a purchase. This program will explore the psychology of the sale and teach design professionals how to ask the right questions in order to steer clients towards what they need and will ultimately buy. Ask about this seminar.
State of the Industry
Find out where the industry is going from a unique business perspective. Learn about the role of design professionals in the future, the influence of retail sales on consumer purchasing and ways to structure your business to stay abreast of changes in the Industry. Ask questions, hear actionable responses, and learn how to make your career thrive! Ask about this seminar.
Interior Design and Retail Furniture: Happy Under One Roof
As more national chains offer "free design services" with the cost of a furniture purchase, it is becoming more challenging for independent professionals to make a profit on furniture alone. This program is dedicated to teaching interior designers how to make money doing what they love–design–while capitalizing on retail stores and servicing that market segment as well. Learn how to offer the services that clients need and get them to pay you for your expertise. Ask about this seminar.
China: Friend or Foe? 
Considering the flood of technology, internet, and an American frame of mind and leadership–Is China our friend or foe when it comes to investing in overseas product development? Just how soon will it be until China becomes the dominant market player and will it?   Listen to, learn from and ask questions of an industry protégé about her experience in product development and manufacturing overseas in China. Ask about this seminar.
Get the Full List of Educational Programs for Design Professionals
"Hallelujah! You hit a home run with the bases loaded! Again! Thanks you so much for joining us at Sherman Gardens. The feedback following your presentation has been wonderful! I hope this is the beginning of a long relationship with you and ASID Orange County."

–In appreciation, Marianne Kreter ASID, CID

---

"I enjoyed your seminar and truly believe it has universal appeal for anyone that wants to charge a premium for their products/services."

 –Brendan Rigney, Echelon Home Products.

---

"YOU are a people changer and that is an exciting thing in life."

–Peggy Zadina, Dallas, TX